Hon'able Shri Ajay Maken, Union Minister for Youth Affairs and Sports, Government of India felicitated Master Nhehern Acharya, Yoga player of Goa Yoga Association for his outstanding performance in Yoga at the international level in the presence of Hon'able Chief Minnister Shri Digamber Kamat, Hon'able Minister for Sports
Shri Babu Azagaonkar, Commissioner for NRI Affairs, Shri Eduardo Faleiro, Director of Sports and Youth Affairs, Dr. Susana De Sousa, Executive Director of Sports Authority of Goa Shri V.M. Prabhu Desai. Director of Sports Authority of India NSNIS, Patiala, Shri Rockey Dias, Dy. Director of Sports Mrs Juliana Colaco at a glittering function of release of " Mr. Eduardo Faliero an inspiration to Millions Yoga book' authered by Shri Roque Dias at Mandovi
The Goa Yoga association and Acharya Institute of Yoga in collaboration with the Sports Authority of Goa has felicitated Master Nhehern Acharya by Shri V.M.Prabhudesai, the Executive Director of the Sports Authority of Goa in the presence of Shri Ashok Kumar Aggarwal, the Secretary General of Yoga Federation of India, Asian Yoga Federation and International Yoga Sports Federation, Dr. Veerendra Gaonkar, Vice President of yoga Association, Shri Subhash Naik, the president of Acharya Institution of Yoga, on 26th April, 2014 at Directorate of Art and Culture Patto, Panaji (Goa) by presenting the excellence Award of Yogasana of the year 2013-14 for his outstanding achievements at the Asian and World Yoga Sports Championships during last 6 years with cash prize of Rs 25,000 donated by Arlinda Jose Casmiro Periera of Cansaulim.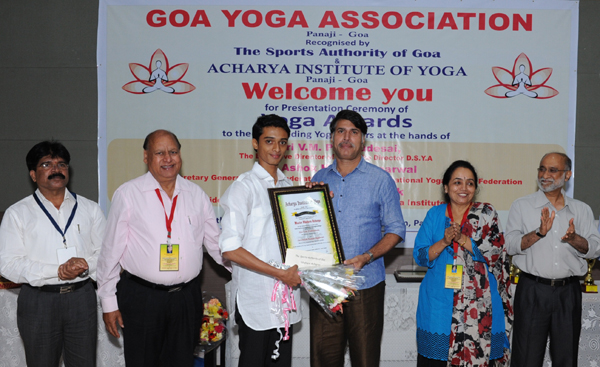 Men Athletic Yoga World Champions
1) Gopala Krishna (India) January 1989 Pondicherry-India (Yoga Federation of India)

2) Naveen Acharya (India) November 1989 Montevideo-Uruguay (World Cup 1990) (Yoga Federation of India)
3) Balamakund Singh (India), January 1993 Pondicherry-India (Yoga Federation of India)

4) Rudra Mukharjee (India) September 2001 Buenos Aires, India (Yoga Federation of India)

5) Rudra Mukharjee (India) September 2002 Rio Janeiro, Brazil (Yoga Federation of India)
6) Radha Krishnan (India) July 2003, Santa Maria Da Feira, Portugal (Yoga Federation of India)
7) Rudra Mukharjee (India) July 2003 Santa Maria Santa Maria Da Feira, Portugal (Yoga Federation of India)

8) Subhash Kumar Sharma (India) April 2005 Milano, Italy (Yoga Federation of India)

9) Avinash (India), Silver Medal in Sep 2009, Rome, Italy (Yoga Federation of India)

10) Pravesh (India), Bronze Medal in Sep 2009, Rome, Italy (Yoga Federation of India)

11) Nreheran Acharya (India), Gold Medal in Sep 2009, Rome, Italy (Yoga Federation of India)

12) Junior - Nreheran Acharya Naveen (India), Gold Medal in Sep 2010, RESORIO CITY, ARGENTINA, (Yoga Federation of India)
13) Junior - Nhehern Navin Acharya (Gold Medal), Bharat Kumar (Silver Medal), Mukesh Kumar Sharma (Bronze Medal) in December 2011, Montevideo, Uruguay (Yoga Federation of India)
---
Women Athletic Yoga World Champions
1) S.Saraswati, (India) January 1989 Pondicherry-India (Yoga Federation of India)

2) K.V. Saraswati, (India) November 1989 Montevideo-Uruguay (World Cup 1990) (Yoga Federation of India)

3) Indrani, (India), January 1993 Pondicherry-India (Yoga Federation of India)

4) Sayona (India) September 2002 Rio Janeiro, Brazil (Yoga Federation of India)
5) Kirti Gahlawat (India) July 2003 Santa Maria Da Feira, Portugal (Yoga Federation of India)
6) BHARTI (India) April 2005 Milano, Italy (Yoga Federation of India)
7) Anita (India), Gold Medal in Sep 2009, Rome, Italy (Yoga Federation of India)

8) Karamdeep (India), Bronze Medal in Sep 2009, Rome, Italy (Yoga Federation of India)

9) Neelam (India), Gold Medal in Sep 2009, Rome, Italy (Yoga Federation of India)

10) Anusha (India), Gold Medal in Sep 2009, Rome, Italy (Yoga Federation of India)

11) Simarjeet (India), Silver Medal in Sep 2009, Rome, Italy (Yoga Federation of India)

12) Junior - Karamdeep (Gold Medal), V.R. Raveena (Bronze Medal) in Sep 2010, RESORIO CITY, ARGENTINA, (Yoga Federation of India)
13) Senior - Neelam Kumari (Gold Medal), R. Praneetha (Silver Medal), Burra Yamuna (Bronze Medal) in Sep 2010, RESORIO CITY, ARGENTINA, (Yoga Federation of India)
13) Junior - Swapnil Insan(Gold Medal), Niharika P (Silver Medal), Dharmambigai Vanavil (Bronze Medal) in December 2011, Montevideo, Uruguay (Yoga Federation of India)
13) Senior - Raveena Veerasamy Ravindran (Gold Medal) in December 2011, Montevideo, Uruguay (Yoga Federation of India)
---
World Cup of Olympic Yoga "Athletic Yoga Sport"
(
by Countries and National teams)
1) India January 1989 Pondicherry-India (Yoga Federation of India)

2) India November 1989Montevideo-Uruguay (Yoga Federation of India)

3) India January 1993 Pondicherry-India (Yoga Federation of India)

4) India September 2001 Buenos Aires, India (Yoga Federation of India)

5) India September 2002 Rio Janeiro, India (Yoga Federation of India)

6) India July 2003 Santa Maria Da Feira, Portugal (Yoga Federation of India)

6) (India) April 2005 Milano, Italy (Yoga Federation of India)

7) (India) December 2006 New Delhi, India (Yoga Federation of India)
8) (India), September 2009, Rome, Italy (Yoga Federation of India)
9) (India), September 2010, Resorio City, Argentina (Yoga Federation of India)
10) (India),

December 18, 2011

, World Yoga Super Cup Championships at Montevideo, Uruguay
---
Artistic Yoga Sport World Champions (Men)
1) Naveen Acharya (India) November 1989 Montevideo-Uruguay (Yoga Federation of India)
2) Avinash (India), Bronze Medal in Sep 2009, Rome, Italy (Yoga Federation of India)
3) Pravesh (India), Silver Medal in Sep 2009, Rome, Italy (Yoga Federation of India)
4) Junior - Nreheran Acharya (Gold Medal) in Sep 2010, RESORIO CITY, ARGENTINA, (Yoga Federation of India)
5) Junior - Nhehern Navin Acharya (Gold Medal), Vishal Veerasamy Ravindran (Silver Medal) in December 2011, Montevideo, Uruguay (Yoga Federation of India)
6) Senior - Bharat Kumar (Gold Medal), Mukesh Kumar Sharma (Silver Medal) in December 2011, Montevideo, Uruguay (Yoga Federation of India)
---

Artistic Yoga Sport World Champions (Women)
1) BHARTI (India) April 2005 Milano, Italy (Yoga Federation of India)

2) Karamdeep (India), Silver Medal in Sep 2009, Rome, Italy (Yoga Federation of India)

3) Anusha (India), Gold Medal in Sep 2009, Rome, Italy (Yoga Federation of India)

4) Junior - V.R. Raveena (Bronze Medal) in Sep 2010, RESORIO CITY, ARGENTINA, (Yoga Federation of India)

5) Senoir - Neelam Kumari (Silver Medal) in Sep 2010, RESORIO CITY, ARGENTINA, (Yoga Federation of India)

6) Junior - Dharmambigai Vanavil (Gold Medal), Niharika P (Silver Medal) in December 2011, Montevideo, Uruguay (Yoga Federation of India)
7) Senior - Raveena Veerasamy (Silver Medal), Akshaya Muruguseb (Bronze Medal) in December 2011, Montevideo, Uruguay (Yoga Federation of India)
---

Artistic Pair Yoga Sport World Champions
1) Sayona Das/ Rupa Manna (India) July 2003, Santa Maria Da Feira, Portugal (Yoga Federation of India)

2) BHARTI & PRIYANKA (India) April 2005 Milano, Italy (Yoga Federation of India)

3) Anusha (India), Gold Medal in Sep 2009, Rome, Italy (Yoga Federation of India)

4) Pravesh (India), Gold Medal in Sep 2009, Rome, Italy (Yoga Federation of India)

5) Nreheran Acharya (India), Bronze Medal in Sep 2009, Rome, Italy (Yoga Federation of India)

6) Junior - Nreheran Acharya, Karamdeep (Bronze Medal) in Sep 2010, RESORIO CITY, ARGENTINA, (Yoga Federation of India)

7) Senior- R. Praneetha, B. Yamuna (Bronze Medal) in Sep 2010, RESORIO CITY, ARGENTINA, (Yoga Federation of India)

8) (Girls) Nikarika P. & Dharmambigai Vanavil (Gold Medal) in December 2011, Montevideo, Uruguay (Yoga Federation of India)

9) (Boys) Bharat Kumar & Mukesh Kumar Sharma (Silver Medal) in December 2011, Montevideo, Uruguay (Yoga Federation of India)
---
Rhythmic Yoga Sport World Champions
1) UPASANA UPADHYAY - (India) april 2005 Milano, Italy (Yoga Federation of India)

2) BHARTI & PRIYANKA (India) April 2005 Milano, Italy (Yoga Federation of India)
3) Karamdeep (India), Silver Medal in Sep 2009, Rome, Italy (Yoga Federation of India)

3) Avinash (India), Bronze Medal in Sep 2009, Rome, Italy (Yoga Federation of India)

3) Simarjeet (India), Silver Medal in Sep 2009, Rome, Italy (Yoga Federation of India)

4) M. Akshaya (Bronze), V. Dharamambigai (Bronze Medal) in Sep 2010, RESORIO CITY, ARGENTINA, (Yoga Federation of India)


5) (Girls) Raveena Veerasamy Ravindran & Akshaya Murugesan (Gold Medal) in December 2011, Montevideo, Uruguay (Yoga Federation of India)

6) (Girls) Nikarika P. & Dharmambigai Vanavil (Bronze Medal) in December 2011, Montevideo, Uruguay (Yoga Federation of India)
7) (Boys) Bharat Kumar & Mukesh Kumar Sharma (Silver Medal) in December 2011, Montevideo, Uruguay (Yoga Federation of India)
---
WORLD YOGA ASANA CHAMPIONSHIP (Girls)
1) Junior - Simarjeet Kour (Gold Medal), V.R. Raveena (Silver Medal), Karamdeep (Bronze Medal) in Sep 2010, RESORIO CITY, ARGENTINA, (Yoga Federation of India)
2) Senior - Neelam Kumari (Gold Medal), R. Praneetha (Silver Medal), Burra Yamuna (Bronze Medal) in Sep 2010, RESORIO CITY, ARGENTINA, (Yoga Federation of India)
---
WORLD YOGA ASANA CHAMPIONSHIP (Boys)
1) Junior - Acharya Naveen Nheheren (Gold Medal) in Sep 2010, RESORIO CITY, ARGENTINA, (Yoga Federation of India)
---
WORLD YOGA ASANA CHAMPIONSHIP (Girls)
1) Junior - Simarjeet Kour (Gold Medal), V.R. Raveena (Silver Medal), Karamdeep (Bronze Medal) in Sep 2010, RESORIO CITY, ARGENTINA, (Yoga Federation of India)
2) Senior - Neelam Kumari (Gold Medal), R. Praneetha (Silver Medal), Burra Yamuna (Bronze Medal) in Sep 2010, RESORIO CITY, ARGENTINA, (Yoga Federation of India)
---
WORLD ACRO YOGA CHAMPIONSHIP
1) Karamdeep (Silver Medal), Simarjeet Kour (Silver Medal)in Sep 2010, RESORIO CITY, ARGENTINA, (Yoga Federation of India)

2) M. Akshaya (Bronze Medal), V. Dharamambagai (Bronze Medal)in Sep 2010, RESORIO CITY, ARGENTINA, (Yoga Federation of India)

3) (Girls) Swapnil Insan & Dharmambigai Vanavil (Bronze Medal) in December 2011, Montevideo, Uruguay (Yoga Federation of India)

4) (Boys) Bharat Kumar & Mukesh Kumar Sharma (Gold Medal) in December 2011, Montevideo, Uruguay (Yoga Federation of India)
---
WORLD DANCE YOGA CHAMPIONSHIP
1) Junior - M. Akshaya (Silver Medal) in Sep 2010, RESORIO CITY, ARGENTINA, (Yoga Federation of India)

2) Junior - Nreheran Acharya (Gold Medal) in Sep 2010, RESORIO CITY, ARGENTINA, (Yoga Federation of India)

3) (Girls) Akshaya Murugesan (Silver Medal), Nikarika P (Bronze Medal) in December 2011, Montevideo, Uruguay (Yoga Federation of India)
4) (Boys) Acharya Nhehern Navin (Gold Medal), Bharat Kumar (Silver Medal), Mukesh Kumar Sharma (Bronze Medal) in December 2011, Montevideo, Uruguay (Yoga Federation of India)
---
WORLD YOGA ASANA CHAMPIONSHIP (Professionals)
1) N. Sidda Reddy (Gold Medal) in Sep 2010, RESORIO CITY, ARGENTINA, (Yoga Federation of India)
---